Launched in February of 2017 Coingi is one of the most reliable crypto exchanges on market.
The idea behind creating a new exchange, in an already very competitive market, was a poor experience with exchanges we tried before.
Coingi team members are experienced developers with a background in creating high-traffic websites, yet it took 20 months to launch Coingi crypto exchange.
The reason, why we put this enormous effort into Coingi, is lack of proper security on exchanges we traded on in past, plus their incompetence to handle huge traffic during "panic sell and buy".
The goal was to build a decentralized, scalable, and of course, a stable exchange where everyone is able to buy and sell Bitcoin and other cryptocurrencies safely.
What makes Coingi the safe place to buy crypto?
Although on the outside Coingi does look like a regular exchange, the magic happens in the back and its focused on security, speed, and reliability.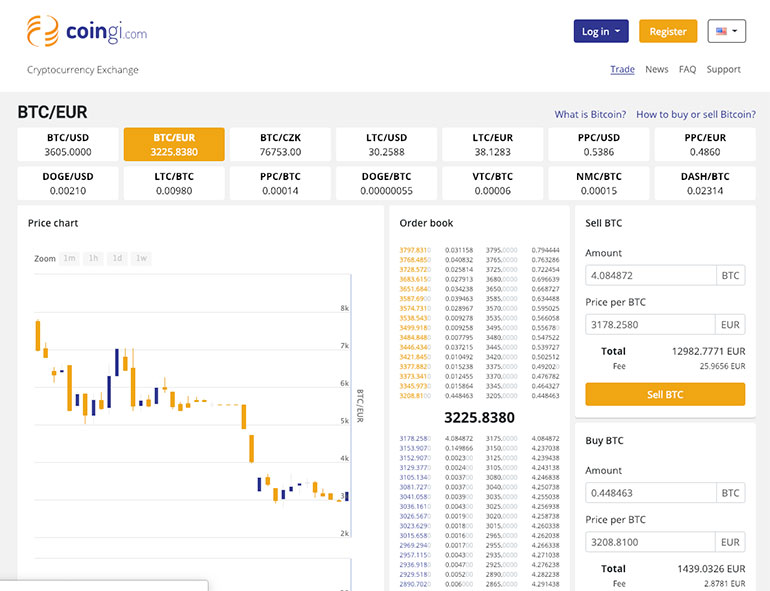 1. Secure crypto trading is our priority.
We are putting a huge effort into security analysis, by developing tests - > hiring external security independent experts - > to verify the tests results.
2. The majority of virtual currencies on Coingi exchange are saved in offline mode.
That prevents online thefts. Online wallets use only a certain amount of money, that is necessary for the operation at the moment.
In case of large transactions, the funds are saved of withdrawn from offline wallets through a controlled process, that guarantees full protection.
3. Online wallets are fully protected and intelligent!
They work completely separately and operate by connecting to the platform by themselves, determine the requests for payment and then control if the requests correspond to reality. Wallets check the collected data about transactions by using checksums and procedures, so the number of Bitcoins at the website is the same as a number of Bitcoins recorded in the database.
4. The Coingi crypto exchange system runs on approximately 30 servers.
Those communicate together via an encrypted VPN network. All communication is signed in a way that these processes cannot be interrupted. Scalability enables us to keep increasing the number of servers, well, forever. We aren't even limited by the location of the servers.
5. We check on our users too.
Every now and then there is a hacker trying on a mail and password combination from some stolen users database.That is another thing we are trying to protect our users from, by analyzing any suspicious logins. Yet we do suggest to have different mail and passwords for each exchange. And two-step verification is a must.
6. 100 000 complete transactions per second were the result of our last testing.
Coingi exchange system is able to process worldwide transactions of tens of thousands of users per second.
7. Another security detail we've added is during confirmation of your cashouts.
This confirmation request goes to email, you can not see in administration at that moment. So if anyone logs in with your official log in mail, they can't actually cash out money without access to the second mail we ask for.
Coingis speaks 10 languages, is easy and intuitive to use and works with fiat like USD and Euro
Currently supporting these coins: